WEFTA is proud to be part of the WASH in Catholic Healthcare Initiative, as we continue working with our partners towards improving WASH resources in healthcare facilities in the countries we serve.
Water, sanitation, and hygiene (WASH) services in healthcare facilities (HCFs) are essential for quality care. These services are necessary to help prevent illness, control the spread of infections, and help save lives. Unfortunately, 45% of healthcare facilities in Least Developed Countries (LDC) lack basic water services and 21% have no sanitation services.
WEFTA has facilitated the construction of water, sanitation, and hygiene (WASH) projects in impoverished countries in Latin America and Africa since 2002. Many WEFTA projects include WASH improvements for Catholic healthcare facilities in the communities we serve.
In 2021 the Vatican's Dicastery for Promoting Integral Human Development launched the WASH in Catholic Healthcare Facilities Initiative. This initiative began with the intention to assess 150 Catholic healthcare facilities across 23 countries. What has been learned, is that there is a greater need for WASH improvements in Catholic Healthcare facilities beyond the initial list of 150.
On June 1, 2023, Catholic Relief Services hosted a meeting in collaboration with the Dicastery for Promoting Integral Human Development, Caritas Internationalis, Daughters of Charity International Project Services, and the Sister Ministers of the Sick of St Thomas, to discuss the progress of this initiative.
WEFTA was proud to present the key component of sustainability during this event.
Following is a link to the entire meeting.
Meeting link: "Affirming the investment in Life & Health: Progress of the WASH in Catholic Healthcare Facilities initiative"
Access code: Vision2030
Below is the agenda listing the approximate time stamps of the specific segments in the event you are short on time. We highly recommend you invest the time to watch the entire recorded meeting, as there is so much great information offered between each segment by the moderator and WASH expert, Lindsay Denny.
WEFTA is honored to work alongside so many amazing partners on this mission!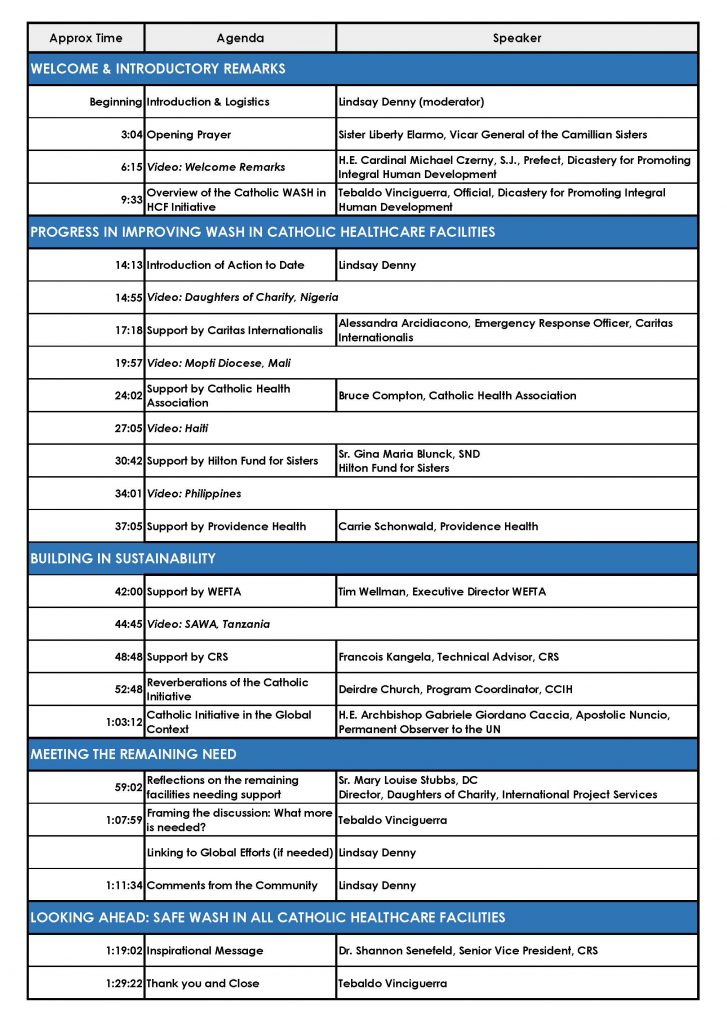 Following are links to the individual videos that were shown during the meeting:
1. Cardinal Czerny's Opening Remarks: https://vimeo.com/830659403
2. Daughters of Charity, Nigeria: https://vimeo.com/830215767
3. Mopti Diocese, Mali: https://vimeo.com/831461025
4. Haiti Video: WASH in Fort-Liberte Haiti on Vimeo
5. Philippines Video: WASH in the Philippines on Vimeo
6. SAWA Post Monitoring Program (Tanzania): https://vimeo.com/828277921
7. Francois Kangela, CRS Technical Advisor: https://vimeo.com/830216256
Access code: Vision2030